T
uesday, November 25, 2003
---
Congress Passes Flawed Medicare Drug Bill
The House and Senate used every parliamentary trick in the book and passed a flawed Medicare prescription drug benefit for seniors. Republican lawmakers used the prescription drug plan to push through "reforms" of the Medicare system that threaten its survival.
"Congress had a chance to help seniors cope with high drug costs. They chose to help their friends in the insurance and pharmaceutical industries instead," said IP Tom Buffenbarger. "It's no coincidence that the plan takes effect after the 2004 elections. George W. Bush is hoping that he'll be safely in a second term when seniors find out how little this plan does. Let's prove him wrong and 'retire' him after one term in office."
The House brought their version of the Medicare bill up for a vote at 3:00 a.m. last Saturday morning. House votes usually last just fifteen minutes, but House members voted 218 to 216 against the bill, GOP leaders abused House rules and held the vote open for three hours. It was the longest roll-call vote in House history and more than double the previous record. After making deals and strong-arming lawmakers, GOP leaders reversed the vote and the bill passed 220-215.
The flawed bill then moved on to the Senate. GOP leaders defeated attempts by Democratic Senators and some GOP conservatives to block the bill with a filibuster. The bill passed in the Senate 54-44.
"This is not Medicare reform. It is Medicare rearrangement and destruction," Theodore Marmor told USA Today. Marmor is a public policy professor at Yale University's School of Management and author of The Politics of Medicare.

---
Congress Reverses Overtime Protections
In a last-minute rush to get home for the holidays, Congress caved to demands by President Bush to make millions of American workers ineligible for overtime pay.
Currently, the Fair Labor Standards Act (FLSA) mandates that most employees must be paid overtime when they work more than forty hours per week. Under the FLSA, certain supervisory personnel and professional workers are exempt from overtime rules.
Last Spring, the Bush Administration proposed "reforms" of overtime eligibility rules that radically expands the definition of supervisory or professional workers, making millions of workers ineligible for overtime pay (for more information about the proposed changes, go to http://www.aflcio.org/yourjobeconomy/overtimepay/ns11222003.cfm).
Bush's overtime grab sparked intense protest. After thousands of e-mails, letters, phone calls and faxes, the Senate approved an amendment by Senator Tom Harkin (D-Iowa) that blocked Bush's proposals. The House passed a resolution to support Harkin's amendment.
Bush defied the House and Senate and pressured GOP lawmakers to remove Harkin's amendment, which they did. Without the amendment, the Labor Department is free to implement Bush's overtime scam before the end of the year.
"Last year, GOP lawmakers scurried home for Christmas after they refused to pass an emergency unemployment extension for millions of workers. This year, they are saying 'Happy Thanksgiving' to millions more American workers by making them ineligible for overtime pay. These guys would make great Robin Hoods, except in their world they steal from the middle class and poor to give to the rich," said IP Tom Buffenbarger.
To support the AFL-CIO's "Overtime Pay National Week of Action", click here or go to www.goiam.org, click on "Action Alerts and Advocacy" and then "Tell Congress to Save Overtime Pay."

---
Enough is Enough at US Airways
IAM representatives from Districts 141 and 141-M informed US Airways CEO David Siegel this week that it will not reopen or discuss further changes to the current collective bargaining agreements at the carrier.
"The concession stand is closed," said District 141 President Randy Canale and District 141-M President Scotty Ford in a November 20 joint letter to the US Airways membership. "Our members ratified significant cost reductions while the company was in bankruptcy, providing the carrier with the tools needed to return US Airways to profitability," said Canale and Ford. "If US Airways' executives are incapable of successfully running this airline within the framework of our existing collective bargaining agreements, a more capable management team should be employed."

---
Rally for Justice at U-Haul Headquarters
Nearly one hundred IAM members and union supporters rallied this week alongside terminated U-Haul workers at the company's Phoenix, Arizona headquarters to demand justice for workers at the notoriously anti-union company. A highlight of the event was the delivery of nearly 10,000 postcards calling on U-Haul president, Edward (Joe) Shoen to end the illegal harassment, intimidation and termination of U-Haul employees.
Supporters of the card drive included Arizona House of Representative member Ben Miranda, AFL-CIO Lead Organizer Trainer Gaspar Verdugo and Randy Parra from AFL-CIO, Jim Watson AFL-CIO Liaison and Arizona AFL-CIO president Rebekah Friend.
The rally also included members from a dozen area unions including: AFT, CWA, UFCW, Roofers International, Ironworkers, Bridge Layers, Plumbers and Fitters, Unite, SEIU and Painters.

---
Community Services/EAP Sessions Held
IAM activists from across North America gathered at the union's innovative Winpisinger Education & Technology Center for a week of intense training in community service activities and employee assistance programs (EAPs).
The annual session drew 60 participants from both the U.S. and Canada, reports Maria Cordone, Community Services/Retirees director. The class split between the community services sector and the EAP sessions. Cordone said 20 of the participants took an 8-hour session in CPR skills. "All of them passed the test and won CPR certification," she added. The Red Cross provided the training.
The EAP sessions focused on topics ranging from substance abuse to domestic and workplace violence and how trained EAPs can help troubled co-workers through the appropriate referrals and counseling options.
The IAM has been at the forefront in developing a professional association for such union-based EAPs. The Labor Assistance Professionals (LAP) brings together certified union EAPs to focus on union workers who may be in need of professional services.

---
Past iMail | Your Email | Visit www.goiam.org | Print Version | Sign-Up for iMail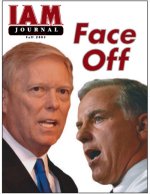 Two candidates came to Cincinnati to vie for the IAM's endorsement for President in 2004. Only one came away with the prize. Read all about it in the online version of The IAM Journal.
---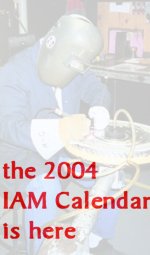 . . . and it's time to order your copy. This years calendar is filled with the winners of the annual IAM photograohy contest. Plus, for every calendar sold, the IAM will donate one dollar to the Guide Dogs of America. Last year, calendar sales earned $25, 000 for the GDA. Click here to download a calendar order form. Print it our on your home computer and mail it back to the IAM.
---