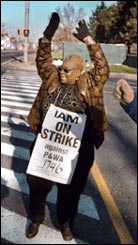 Job Security given voice at Pratt & Whitney strike. An article from the Hartford-Courant.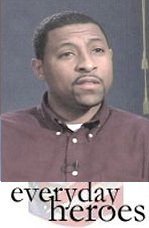 Vernon Thorpe, Transport Workers Union, reflects on what it meant to work at Ground Zero.
---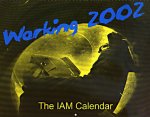 Order your 2002 IAM Calendar Now. The 2002 calendar features winners of this year's IAM Photography Contest.
Send a check for $5.00 to:
IAM Calendar
c/o IAM Communications
9000 Machinists Place
Upper Marlboro, MD
20772-2687
Local Lodges and Districts can download a bulk order form for large calendar requests.
---
The IAM
Executive Council
International President
R. Thomas Buffenbarger

Secretary Treasurer
Donald E. Wharton

GVP Western
Territory
Lee Pearson
GVP Canada
GVP Canada
Dave Ritchie

GVP Midwest
Territory
Alex M. Bay

GVP Headquarters
Robert V. Thayer
GVP Southern
GVP Southern
Territory
George Hooper

GVP Eastern
Territory
Warren L. Mart

GVP Transportation
Robert Roach, Jr.
Tuesday, December 11, 2001


IAM Leaders in White House Meeting
Government bailout money provided to United Airlines was the issue today at a meeting between White House officials and Machinists Union leaders seeking new contracts for 45,000 United employees represented by the International Association of Machinists and Aerospace Workers (IAM).

"Today's meeting was requested by the IAM to determine if this administration's alleged concerns over United's use of bailout funds is preventing our negotiations from moving forward," said Scotty Ford, IAM District 141-M president and lead negotiator for 15,000 mechanic and related employees at United.

"White House officials indicated they would not stand in the way of our negotiations," said Randy Canale, IAM District 141 president representing 30,000 United employees. We remain concerned, however, their involvement is guiding United management toward additional delay at the bargaining table."

"A level playing field for all employee groups is essential to rebuilding United Airlines," said Robert Roach, Jr., IAM General Vice President. "United management must return to the bargaining table prepared to resolve employees' legitimate concerns regarding pay and job security. Rebuilding employee confidence is the first step toward bringing the flying public back to United airlines."
---
Social Security Panel Offers 'Raw Deal'
A presidential panel created to shore up the Social Security safety net and head off a deficit predicted by 2038 failed on both counts, according to an analysis by the Economic Policy Institute (EPI).

"Both President Bush and Congress squandered our best chance to strengthen and protect Social Security when they blew our federal budget surplus on a huge tax cut for millionaires," said IP Tom Buffenbarger. "The only people who benefit from this concoction are investment bankers and Wall Street brokers."

The EPI study, Undermining Social Security with Private Accounts, faults the Bush commission's recommended private investment options as a "raw deal" that would leave coming generations of retirees with a reduced standard of living and require massive infusions of new tax dollars to pay for the changeover to private accounts.

The study faults the commission for overlooking an obvious and fair solution: remove the arbitrary cap on earnings that are subject to the Social Security payroll tax-a change that would cover at least three-fourths of the predicted deficit. The complete EPI study can be found at www.epinet.org/
---
Economic Stimulus Bill Lurks in Senate
The White House and its GOP allies in the Senate hit choppy waters. Their economic stimulus bill-huge giveaways to Corporate America and hefty rebates to wealthy taxpayers-was left adrift as supporters scrambled to round up votes.

The GOP's stimulus package returns every nickel corporations paid under the alternative minimum tax law for the last 15 years! That hands a $1.4 billion dollar stocking stuffer to IBM, another $1 billion to Ford, $833 million to GE and $600 million to Daimler Chrysler.

Call your senators now, toll-free at 800-718-1008 and urge them to vote against this outrageous rip-off. Ask them to focus on the real needs of working families. We can make a difference.
---
IAM Publications Win ILCA Awards
The IAM Communications Department and several IAM local and district publications won awards in the annual International Labor Communications Association (ILCA) Journalism contest. The ILCA is an AFL-CIO allied organization of trade unionists involved in print, broadcast, film and web-based communications. The ILCA represents hundreds of locals, districts and international unions throughout North America with a combined circulation total of more than 27 million.

The IAM's website, GoIAM.org, won top honors as the best website among international unions. The IAM Journal took second place in general excellence among international unions and two awards for in-depth articles on CEO pay (Jan/Feb 2000) and prison labor (May/June 2000). An IAM-produced video on NAFTA for the 2000 Grand Lodge Convention took first place in the Film and Broadcast contest.

Other IAM winners included a second place general excellence award and a first place best front page award for Local 1759's Fly Paper edited by Al Abromitis. District 751's Aero Mechanic, edited by Connie Kelliher, received an honorable mention for general excellence. Local 141's Transporter, edited by Harry Katopodis, won a third-place award for best cover and two Saul Miller "Awards of Excellence."

The IAM has been a strong supporter of the ILCA since its founding in 1956. Bill Upton, Assistant Director of the IAM Communications Department, serves on the ILCA Executive Board and was re-elected at the ILCA convention to a second term as a vice president.

"These awards demonstrate the talent and dedication of our members at every level of our union" said IAM President Tom Buffenbarger. "The IAM has always played a leading role in the ILCA. I urge all of our locals and districts that have newsletters or websites to join and remain ILCA members."

The benefits of joining the ILCA include a monthly graphics packet, the ILCA Reporter, and access to communications and other resources. For more information and a complete list of contest winners, go to the ILCA website at http://ilca.aflcio.org or call 202-637-5068.
---
Union Leaders, US Airways CEO Meet
IAM representatives met with US Airways' Chairman Stephen Wolf for the first time since Rakesh Gangwal resigned as president and CEO on November 27. Also present at the meeting were union representatives of pilots, flight attendants and ticket agents at US Airways.

Wolf, now US Airways Chairman and CEO, expressed a desire to maintain current hub operations and for increased flying to and from Washington National and New York's LaGuardia airports. The former head of United Airlines, Flying Tigers and Republic Airlines also repeated his goal of increased regional jet operations as part of a plan to restore US Airways to profitability without selling, merging or significantly shrinking the nation's sixth largest airline.
---
Unemployment Hits 5.7 Percent
Massive job losses continue to rock the U.S. economy, according to government figures that show a recession with the highest level of unemployment in six years. Nearly 1.2 million Americans lost jobs in October and November, pushing the labor department's total unemployment figure to 8.2 million.

Interest rate cuts and continued job losses are expected despite some forecasts of an economic recovery in 2002, due to employers who will try to absorb increased demand without hiring more workers. "If the economy were turning, the last place you would expect to see it is in the labor market," opined economist James Glassman of J.P. Morgan Chase Securities.

Economists agree it will take growth of at least three percent to stop the rise in unemployment. "Unless there is a change in direction from Washington, unemployment will continue to rise throughout 2002," said Larry Mishel of the Economic Policy Institute.
---
Canadian Machinist Wins Labour Seat
On December 5, 2001, Canadian Communications Representative Frank Saptel won a landslide victory to become one of two Vice-Presidents of the Ontario Federation of Labour (OFL)

Representing Visible Minorities. Saptel, an active member of the Coalition of Black Trade Unionists (CBTU), Asian Canadian Labour Alliance (ACLA) won the vice-presidency in his first-ever bid for elected office. "This is something I felt strongly about," said Saptel. "Its also something I knew I could accomplish. Promoting the rights of people of color within the labor movement must be an ongoing process and providing leadership training is of the utmost importance."

Canadian GVP Dave Ritchie said of Saptel's election, "The work done at the OFL to represent people of color is the future of the union movement. I was very pleased that Frank decided to run for the position and I know he will do an excellent job at the Federation."
---
Comments, suggestions, or story items?
Contact IAMAW
Read previous imails
Print Friendly Version