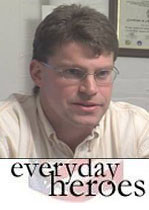 Don Faeth FDNY Uniformed EMT talks about assisting the healing process.
---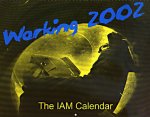 Order your 2002 IAM Calendar Now. The 2002 calendar features winners of this year's IAM Photography Contest.
Send a check for $5.00 to:
IAM Calendar
c/o IAM Communications
9000 Machinists Place
Upper Marlboro, MD
20772-2687
Local Lodges and Districts can download a bulk order form for large calendar requests.
---
The IAM
Executive Council
International President
R. Thomas Buffenbarger

Secretary Treasurer
Donald E. Wharton

GVP Western
Territory
Lee Pearson
GVP Canada
GVP Canada
Dave Ritchie

GVP Midwest
Territory
Alex M. Bay

GVP Headquarters
Robert V. Thayer
GVP Southern
GVP Southern
Territory
George Hooper

GVP Eastern
Territory
Warren L. Mart

GVP Transportation
Robert Roach, Jr.
Friday, December 21, 2001


Bush Intervenes in UAL Negotiations

President Bush and his advisor Larry Lindsey are now key players in negotiations at United Airlines.


(AP Worldwide Photos)
"Yesterdays' decision by President Bush to block a negotiated settlement at United Airlines will go down in history as the defining moment in this administration's war against American workers' collective bargaining rights," said IP Tom Buffenbarger.

"It's clear United Airlines and the Bush administration agreed in advance to ignore the intent of collective bargaining law and force the dispute into the hands of a management-friendly Presidential Emergency Board (PEB)," said Buffenbarger.

The three-person PEB will have 30 days to investigate and make recommendations to President Bush. Those recommendations do not bind either party in the 2 year-old dispute between United Airlines and 15,000 District 141-M mechanic and related employees.

"Throughout negotiations, United behaved like a deadbeat dad," said Buffenbarger. "Dodging its responsibility to employees with one bad excuse after another. At every turn, the airline begged forgiveness and promised to improve. Now, the company is in bed with the anti-union zealots of the Bush administration."

"Binding arbitration, Presidential Emergency Boards and/or legislated agreements all have the same purpose," said Buffenbarger. "They aim to eliminate the rights of workers to face their employers as equals with the power to vote 'yes' or 'no' on labor contracts.
"Airline employees everywhere are bitter," said Buffenbarger. "The administration that wouldn't lift a finger to help their laid off co-workers is now leading the way to prevent the remaining workers from helping themselves. This abuse has gone far enough."
---

Holiday Greetings From the IAM
The editorial staff joins the Executive Council in wishing you a most joyous holiday season and a peaceful prosperous New Year. It is fitting that we reflect on our proud union heritage as we focus our energies on forging a brighter future for our members and for all working people around the globe.

Our union was founded on the principles of solidarity and compassion, in deeds, not just in words. These principles brought us together through a very trying year. They will continue to guide us in our struggle for a better world for working families.
---
Community Spirit Sparks IAM Blood Drive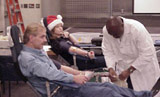 More than two dozen employees at IAM Headquarters joined in the holiday spirit to donate blood to the local Red Cross. The drive was organized by the IAM Community Services Department. "Blood supplies are dangerously low, and we were glad to do our part," said IAM Cares employee Carol Salter (pictured at right with the Santa cap). "It's been a while since I've donated blood, and this was a great way to get back into the habit. It's an important service to others in need."
The Community Services Department is also providing a valuable service for IAM members who need help with substance abuse issues during the added stress of the holiday season. "We've made a new resource, CyberSober.com, available to IAM members during the holiday period," said Maria Cordone, IAM Retirees/Community Services director. The new service provides information on almost every aspect of substance abuse and lists valuable resources. "We are offering it to IAM members without cost through the holidays," said Cordone. "You can log on to the site at http://www.cybersober.net/iamaw. Use iamaw for the user id and union for the password."

---
Anthrax Threats Slow Mail Service at FMCS
The IAM Legal Department reports that mail deliveries to the national office of the Federal Mediation and Conciliation Service (FMCS) have been halted since last October due to anthrax-related threats.

FMCS officials advise that anyone with pending panel requests should re-submit those requests by fax, (202)-606-3749 as soon as possible. Further, FMCS officials say you should provide the date the original request was submitted.

---
Signup for iMail, FaxLink to End Dec 31


This is the final reminder to any locals or districts that have not signed up for iMail, please register by Dec 31. This is the last edition of FaxLink, which will be replaced entirely by iMail, a web-based publication.

Almost all locals and districts have already made the switch to iMail. If your local or district has not, log on to www.goiam.org and click on the "I-Mail Signup" button in the lower left corner of the home page. Complete the online form and you will receive iMail automatically via e-mail.
---
Comments, suggestions, or story items?
Contact IAMAW
Read previous imails
Print Friendly Version