labor issues you care about . . . in streaming video
---
The Worst Economy in 200 Years?
Precarious Cash Balance Pensions
Email Campaign to Save Raytheon Jobs
Working Families Presidential Forum
Plan to Derail Amtrak
Trading Jobs Overseas
Tough Sell for Tax Cut Tour
Trading Jobs Overseas
Stop the Attacks on Federal Workers
Kansas Governor Pledges to Support 'Grow Kansas'
Who Are They
Fooling?
Attack on Overtime
Gephardt Wins IAM Endorsement
---
International President
R. Thomas Buffenbarger

Secretary-Treasurer Warren L. Mart

GVP Western Territory
Lee Pearson
GVP Canada
Dave Ritchie

GVP Midwest Territory
Alex M. Bay

GVP Headquarters
Robert V. Thayer
GVP Transportation
Robert Roach, Jr.

GVP Eastern Territory
Lynn Tucker

GVP Southern Territory
Robert Martinez
Thur
sday, September 11, 2003
---
Aerospace Conference Takes to the Streets

IP Tom Buffenbarger and members of the Executive Council led hundreds of Machinists through the streets of downtown Hartford to the headquarters of United Technologies Corp. where chants of "What do we want - Jobs! When do we want them - Now!" reverberated through the city's concrete canyons.
Led by police escorts and trailed by a rear guard of American-made Harley Davidsons, the marchers from Hamilton Sundstrand, Pratt & Whitney and UTC Fuel Cells demanded an end to the profitable company's plans to ship more jobs to low-wage foreign countries.
Buffenbarger pointed the finger at President Bush for allowing the exodus of jobs in the name of corporate profits. "Come November 2004 we need to give President Bush a pink slip," he said. Passing cars and trucks honked their support and the chanting crowd grew to more than 500 as members from Hartford-area unions joined the rally, including HERE and SEIU members on strike at Yale University.
"The message is clear. It's about jobs," said District 26 Assistant DBR James Parent, in a front-page business section article about the rally. Parent said 15,000 jobs have been lost in Connecticut to UTC outsourcing and moves overseas. "It's a crime," said Parent. "They ought to be investing right here in the state of Connecticut."
<![if !supportLineBreakNewLine]>
<![endif]>
Senate Bushwhacks Overtime Ploy

A half-dozen GOP senators jumped ship and handed President Bush a stinging setback in his efforts to gut overtime pay provisions for more than 8 million working Americans. It was a rare victory for working families in the Republican-controlled Senate.
The vote came on an amendment to the Labor-HHS appropriations bill. Democratic Sen. Tom Harkin of Iowa offered the amendment, which prevents the Labor Dept. from stripping overtime pay from as many as 8 million workers who are now covered by the overtime pay provisions. It does allow Labor to extend those same protections to the 600,000 low-wage workers the White House claimed would benefit from the ploy.
The measure now goes to a House-Senate conference committee, which will meld it with a House-passed version. A similar House measure blocking the assault on overtime pay lost by three votes, 213-210.
White House officials say President Bush will veto the spending bill if it contains the Harkin amendment. Many of the workers most affected by the overtime pay dispute are firefighters, emergency medical personnel and police officers. Bush declared such workers national heroes for their dedicated efforts during the terrorist attacks on 9/11.
The six Republicans who voted FOR this crucial measure include Ben Nighthorse Campbell from Colorado, Lincoln Chafee of Rhode Island, Lisa Murkowski and Ted Stevens from Alaska, Olympia Snowe of Maine and Arlen Specter from Pennsylvania.
Senator Zell Miller owns the dubious distinction of being the lone Democrat who voted with Bush on the overtime pay issue.
Poll: Public Gives Unions High Marks

Fully 85 percent of the American public endorses unions, according to recent Gallup polling. Young adults, ages 18 – 29, are the most supportive, with fully 77 percent voicing approval of unions. Solid majorities of those polled say unions help union members, 76 percent, unionized companies, 58 percent, and the U.S. economy, 54 percent.
On a related note, a recent survey finds that America's workers, both union and nonunion, benefit from the social and economic gains won by unions. Unions raise nonunion wages because nonunion employers follow union pay scales to prevent their workers from organizing unions, according to research done by the Economic Policy Institute (EPI). Unions also play a powerful role in reducing income inequality by improving wages for low-income workers, the EPI report noted.
Strike Support at Standard-Knapp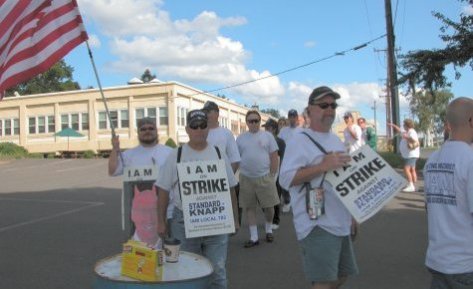 The picket line at Standard-Knapp in Portland, CT got some extra help this week as IP Tom Buffenbarger and members of the Executive Council traveled from the Aerospace Conference in Hartford to join members of Local 782 who have been on strike since Aug. 16.
Company proposals leading to the walk out call for an end to recall rights for laid-off workers, cuts in vacation time and over-time pay, lost personal days, and increases in employee medical costs. Annual raises of 2 to 4 percent during the life of the agreement would be based on "merit," but without allowing employees to dispute the decision through the grievance procedure.
The IAM will also file charges with the National Labor Relations Board over moves by the company to inhibit workers' voting rights. "The workers of Standard-Knapp are a seasoned, senior team. Most of our members there are age 50 or older, with twenty or more years of loyal service," said Everett Corey, District 26 DBR. "Not only does the company want to gut the contract, they violate the law in the process. Our members responded in the only way they could."
Mart Names Minnich Special Assistant

GST Warren Mart named Robert A. Minnich, a veteran Grand Lodge auditor as his special assistant. He will begin his new duties October 1, 2003. Minnich joined the IAM in 1985 and soon became active in his union. He served as financial officer and performed those duties until he became an auditor in 1995.
"I am delighted to have someone of Rob's caliber and experience joining me here at Grand Lodge headquarters," Mart said.
At the same time, the Southern Territory added a special representative and the Eastern Territory named a new education representative. District 75 organizer Ray Moffat joined the staff as special representative and has been assigned to organizing activities. He has been an IAM member since 1992.
"He has proven himself an excellent organizer and I know those skills will serve our union well," noted GVP Bob Martinez. "I know he will do a great job."
GVP Lynn Tucker named Doug Sizemore as the Eastern Territory's education representative. Sizemore joined IAM local 912 in 1985, while working at the GE facility in Evendale, OH. He held numerous posts in his local union and was elected directing business representative of District 34 last year.
"Doug has done an outstanding job throughout his service with our union," Tucker said. "We are pleased to have him take on this new responsibility."
IAM Video has a New Look!

You can now view IAM videos on www.goiam.org with Windows Media Player. Windows Media Player comes standard with all PC's so there is no need to download another program. Videos will still be available in Real format for the next few months. Beside the video name will be an option for "REAL" or "WIN", click on the format of your choice and the video will begin to play.
---
Read Past iMail | Email Your Opinion | Visit www.goiam.org | Print Version | Sign-Up for iMail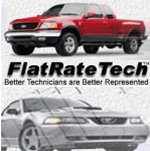 Flate Rate Tech is an organization "created for and by Ford and Lincoln Mercury service technicians solely to speak as one loud voice rather than 50,000 smaller voices," according to their website http://flatratetech.com. The fast-growing site offers forums for Ford customers, technicians and dealers to exchange information

---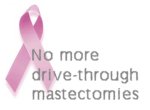 The Breast Cancer Patient Protection Act (HR 1886) will require insurance companies to cover a minimum hospital stay of 48 hours for patients undergoing mastectomy breast surgery. You can help ensure this critical legistlation is passed by signing the online petition now.
---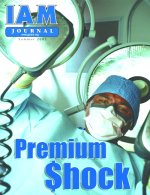 The Summer 2003 IAM Journal is now online. Skyrocketing health care costs are causing Premium Shock for members and employers. The IAM Journal looks at what's causing the increases and what can be done to change America's health care system.
---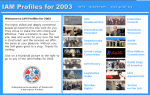 See who works for you, how the IAM is structured, and what services the IAM offers. Go to: IAM profiles for 2003.
---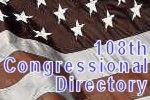 The 108th Congressional Directory . . . get your copy. Send $5 to the MNPL Education Fund, c/o IAMAW, 9000 Machinists Place, Upper Marlboro, MD, 20772.
---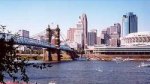 The official site for the 36th Grand Lodge Convention to be held in 2004 in Cincinnati, Ohio is now online. Check it our for convention news, sponsorship offers, and convention gear.