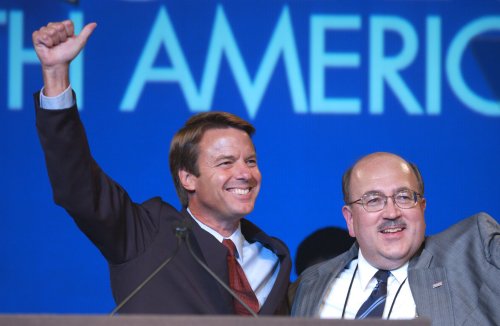 Democratic vice presidential candidate John Edwards got a hero's welcome from IP Tom Buffenberger and delegates to the IAM's 36 Grand Lodge Convention
Edwards Cheered by Machinists in Cincinnati
Vice presidential candidate John Edwards got a hero's welcome Monday evening at the Cincinnati Convention Center where he addressed more than 2,000 Machinists gathered for the 36 th IAM Grand Lodge Convention.
The charismatic candidate focused on the issues that matter most to IAM members: Jobs; the cost of health care; collective bargaining rights and the failure of the Bush-Cheney administration to stem the widespread destruction of good jobs in this country.
"The truth of the matter is that a job is about more than just a paycheck. It's about dignity and it's about self-respect,' declared Edwards, who called for tax breaks for companies that keep good jobs here in America rather than tax incentives to move jobs overseas. "This is not just an economic issue," said Edwards to more cheers. "This is a moral issue."
IAM President Tom Buffenbarger agreed. "The loss of so many jobs deserves to be the most important issue in this election," said Buffenbarger. "John Edwards knows the value of a decent paycheck, affordable health insurance and pensions. He knows more about people like us than Dick Cheney could ever hope to."
Edwards urged the delegates to judge President Bush on his record. "During the time George Bush has been president, 5 million Americans lost their healthcare, 4 million Americans have gone into poverty and 1.6 million private sector jobs have been lost," said Edwards.
The candidate's support for collective bargaining rights drew some of the loudest applause of the evening. "We ought to make card check neutrality the law of the land and we ought to ban the permanent replacement of strikers and make that the law of the land," said Edwards, bringing the crowd to their feet yet again.