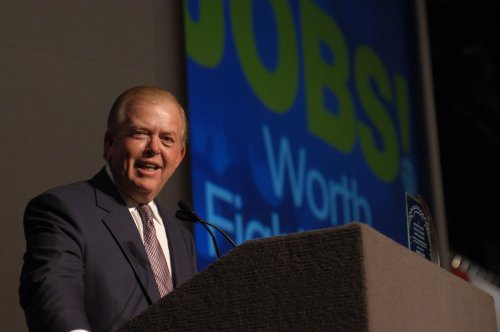 IAM Honors North American Job Defender, Lou Dobbs
News anchor Lou Dobbs brought IAM delegates to their feet again and again with an eloquent defense of North American workers and a sober prediction of what will happen if current policies remain unchanged.
"We are in a very, very perilous moment in this country's history. The middle class is being forced into direct competition with third world labor," said Dobbs, who blasted elected officials from both political parties for ignoring the economic and social impact of outsourcing.
"Every elected official in this country, in my humble judgment, should not receive anyone's vote until we know where the middle class, the working men and women in this country, rests in his or her political agenda," declared the outspoken news anchor.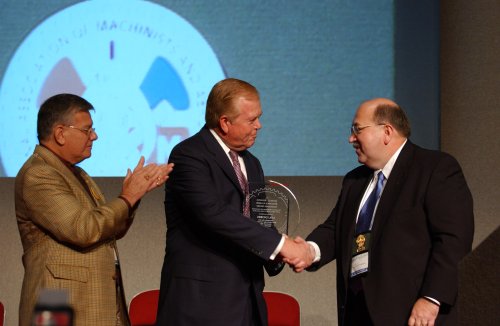 CNN's Lou Dobbs received the 2004 George J. Kourpias Award for Excellence in Labor Journalism. "We would canonize him if we could," said President Buffenbarger.
Dobbs was presented with the IAM's George J. Kourpias Award for Excellence in Labor Journalism and hailed for his contribution to the debate on jobs, outsourcing and harmful trade policies. "There is no finer recipient than Lou Dobbs for the Kourpias Award," said President Buffenbarger. "Night after night he tells the story of our jobs being shipped overseas. If we could canonize him, we would."
The newsman noted criticism he receives from business groups and conservative politicians for the stand he has taken on the issue of outsourcing. "The White House is more than a little annoyed with me," said the unapologetic Dobbs.
Mr. Dobbs anchors the nightly CNN news program "Lou Dobbs Tonight" and regularly features communities and individuals impacted by outsourcing. IAM members from Maytag in Galesburg, IL were recently featured on the Dobbs program after the company moved their jobs to Mexico.
Read the
transcript
of Lou Dobb's speech