The IAM Executive Council
R. Thomas Buffenbarger
International President

Warren Mart
General Secretary-Treasurer

Dave Ritchie
GVP Canada

Robert Roach, Jr.
GVP Transportation

Lynn Tucker
GVP Eastern Territory

Robert Martinez
GVP Southern Territory

Richard Michalski
GVP Headquarters
Philip J. Gruber
GVP Midwest Territory
Gary Allen
GVP Western Territory



» Home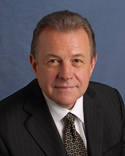 Rich Michalski
General Vice President―Headquarters

In 1968, Rich was initiated into IAM Local Lodge 1916 and worked as a welder at General Electric in Milwaukee , Wisconsin . He held several positions in his local lodge, including steward, chairman of the bargaining committee, and president.
Rich has always been politically involved at the grass roots level, volunteering many hours campaigning for candidates promoting workers' issues. He was the Democratic committeeman for his precinct for 12 years, and elected delegate to the 1980 and 1984 Democratic National Conventions.
Rich became the IAM's Director of Legislative and Political Action Department in 1992. In this capacity, he was involved on a daily basis with legislation that affects working men and women together with the AFL-CIO and its affiliates, interfacing with Members of Congress in Washington , pushing back the extremist agenda.
Rich was also Director of Political Action for the Machinists Non-Partisan Political League (MNPL), one of the top 10 political action committees in the country.
On June 1, 2006 Rich joined the ranks of the IAMís Executive Board as the General Vice President in charge of IAM Headquarters.