The IAM Executive Council
R. Thomas Buffenbarger
International President

Warren Mart
General Secretary-Treasurer

Dave Ritchie
GVP Canada

Robert Roach, Jr.
GVP Transportation

Lynn Tucker
GVP Eastern Territory

Robert Martinez
GVP Southern Territory

Richard Michalski
GVP Headquarters
Philip J. Gruber
GVP Midwest Territory
Gary Allen
GVP Western Territory



» Home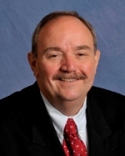 Dave Ritchie

General Vice President―Canada
Dave Ritchie became IAM General Vice President for Canada December 1, 1995. As a member of the Executive Council, he coordinates the administration of services for more than 40,000 Canadian members of the IAM, oversees the organizing of new members in Canada and ensures that the Canadian Parliament in Ottawa is aware of and responsive to the needs of the IAM membership.

Ritchie joined IAM Local Lodge 1755, Toronto, in 1973 after being hired as an electric meter repairman at Sangamo Electric. He subsequently held a variety of positions at the local lodge level, including: Shop Steward; Chief Steward; Shop Committee Chairperson; Vice President and Negotiating Committee Chair. He also served as Vice President of the Ontario Provincial Council of Machinists and was a founding member of the Canadian Machinists Council.

In 1978, he was elected as a Business Representative of IAM District 78, Toronto, one of the largest IAM districts in Canada. Nine years later, in 1986, Brother Ritchie was elected Directing Business Representative of District 78 and held that post until joining the Executive Council two years ago. He has served as Chairperson of the Ontario Newspaper Council of Unions; a member of the Ontario Premier's Council for Apprenticeships; executive board member of the Electronic Sectorial Skills, Ontario and Co-Chair of the Apprenticeship Committee, Sectoral Skills.

Ritchie is a member of IAM Local Lodge 235, Toronto.