The IAM Executive Council
R. Thomas Buffenbarger
International President

Warren Mart
General Secretary-Treasurer

Dave Ritchie
GVP Canada

Robert Roach, Jr.
GVP Transportation

Lynn Tucker
GVP Eastern Territory

Robert Martinez
GVP Southern Territory

Richard Michalski
GVP Headquarters
Philip J. Gruber
GVP Midwest Territory
Gary Allen
GVP Western Territory



» Home
<![if !vml]>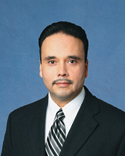 <![endif]>Gary Allen
General Vice President―Western Territory


Gary Allen is the General Vice President assigned to the Western Territory. The Western Territory includes thirteen states: Alaska, Arizona, California, Colorado, Hawaii, Idaho, Montana, New Mexico, Nevada, Oregon, Utah, Washington and Wyoming.

Allen, a native of New Mexico, initiated into IAM Local Lodge 794 in 1979 when he was hired at the General Electric Aircraft Engine Plant, in Albuquerque, New Mexico. Following his father's example, Allen involved himself in the IAM early on. He was elected as an IAM Area Steward in 1981. One year later, he was elected First Shift Steward, responsible for handling grievances and directing the activities of all stewards on first shift. The following year he was elected Chief Steward, overseeing the activities of all shop stewards on all shifts.

Allen also served as a Local Lodge Auditor, a member of the Labor Relations Negotiating Committee, the Organizing Committee and as a delegate to then District Lodge 183, the AFL-CIO and IAM Grand Lodge Conventions.

In 1985, Allen became one of the youngest-ever elected President and Directing Business Representatives of Local Lodge 794, representing IAM members at shops including General Electric, Greyhound, Fruehauf Trailers and Arkansas Best Freight. He held both positions until 1989, when he was appointed a Special Representative for the IAM's Western Territory. He became a Grand Lodge Representative in 1991 and in 1996 was appointed the Overall Coordinator for Organizing for the Western Territory.

Allen moved to IAM Headquarters in 1997 as a Coordinator for Collective Bargaining and later that year was appointed Aerospace Coordinator in the newly-formed IAM Aerospace Department. In 2003, General Vice President Lee Pearson selected Allen to serve as the Western Territory's Administrative Assistant.

Allen brings a broad depth and breadth of experience in numerous industries, from aerospace to transportation, as well as his endeavors in organizing, servicing and representation, to his new position on the Executive Council.