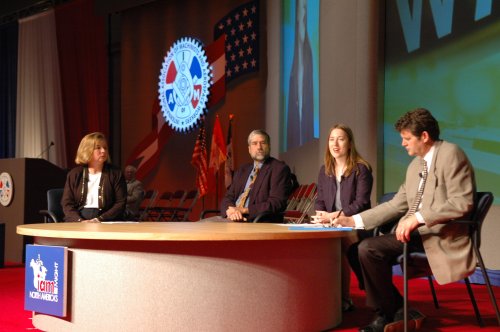 Offering a prescription for the ailing U.S. healthcare are panelists, from left, Cheryl Johnson; Dr. Jonathon Ross; moderator Heather Boushey and James Clancy.
U.S. Healthcare Gets a Checkup
Employer-paid healthcare is one of the premier benefits of union membership in the U.S, and increasingly the hardest to defend at the negotiating table. A distinguished panel of healthcare experts from the U.S. and Canada gave delegates sound advice on improving the U.S. healthcare system. "IAM members are some of the luckiest of Americans," said panel moderator Heather Boushey of the Center for Economic and Policy Research. "Only three out of five Americans under sixty-five have employer-based healthcare. In addition, employers are dropping family dependent coverage, which has doubled the number of children of working parents who must turn to Medicaid."
Canada solved its healthcare problem years ago with a single-payer system. "We spend 9.4 percentof our Gross Domestic Product (GDP) in Canada and if any citizen gets sick they get the best care available. The U.S. spends 15 percent of GDP on a system that isn't working," said James Clancy, National President of Canada's National Union of Public and General Employees. "Our system takes healthcare off the negotiating table. More than 70 percent of strikes and lockouts in the U.S. last year were over healthcare. That just doesn't happen in Canada."
Another advantage of a single-payer system is less administrative costs. "Over the last 30 years, there's about a 150 percent growth in the number of U.S. nurses and doctors, but there's been a 2,500 percent increase in the number of administrators," said Dr. Jonathon Ross of Physicians for a National Health Program.
The high spending on administrative overhead decreases funding to cover more Americans and improve quality of care. "In hospitals where nurses have eight patients, you have a 31 percent greater chance of dying than if a nurse has four patients," said Cheryl Johnson, President of United American Nurses. "No nurse wants to put you or your family member in jeopardy. If we had a better-funded system, we would have better staffing, and therefore better quality."
"Single-payer universal coverage makes economic sense," said Clancy. "It's more efficient in terms of coverage and quality. It's time U.S. business, labor and others recognize that it is the right thing to do."
Convention Action Wednesday Sep. 22
Convention delegates took action on several proposed amendments, approving a proposal that gives the International President the flexibility to determine the frequency, content, and form of the reports filed by business representatives, general chairpersons and organizers. Delegates agreed with recommendations of the Law Committee and voted down propositions to require the issuance of strike stamps for the months in which a strike begins and ends, regardless of the dates the strike begins and ends and they voted down a proposal to allow Internet voting and electronic balloting.
Delegates agreed with the recommendation of the Appeals and Grievances Committee and adopted their recommendation for a five-year suspension of a Directing Business Representative and a Business Representative who had been found guilty of insubordination and negligence. Delegates voted down a proposed amendment to make the suspension a lifetime expulsion.