Panelists, from left, Denise Nappier, moderator Steve Sleigh and David Wilhelm offer insights into using capital markets to work for labor's interests.
Panel Eyes Ways to Make Capital Work for Labor
A panel of economic experts discussed ways for the IAM, and unions in general, to use their considerable leverage in capital markets to create good, sustainable jobs in North America.
"When added to public sector funds and corporate funds which bargain with unions, unions have influence over an estimated $6 trillion in assets, or nearly 70 percent of all equity," President Tom Buffenbarger said. "How can we use that influence to create and sustain job growth and profitability?"
"There are essentially two strategies to pursue. One is shareholder activism using shareholder resolutions," said Adena Ventures President David Wilhelm. "I think the more interesting long-term strategy is to become investors in the economy of this country. I see the Machinists leading the way, and that gives me great confidence in the future."
Connecticut State Treasurer Denise Nappier was an influential force in the fight to keep corporate pirate Stanley Works from relocating to Bermuda. "The management of Stanley Works fought us every step of the way, but we prevailed," said Nappier. "That's a good example of using the clout of our pension funds, working in concert with the unions, to effectuate positive change for the workers, for our community and our country."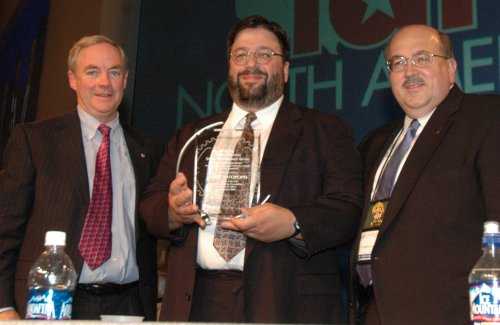 Veteran editor and web steward Harry Katopodis from LL 141 in Detroit was presented with the Robert J. Kalaski award for his long and dedicated service to the IAM membership.
IAM Newsletter & Website Contest Winners
Our district and local newsletter editors and web stewards are the ones who work at full-time jobs and come home in the evening on their own time to write newsletters and develop websites. They are ones who wear many different hats in their locals and districts because they know a job has to be done.
They are on the front lines to protect workers' rights. They are the ones who gets labors' message out to the membership. They meet the pressing challenges. They take on the tough jobs. They truly are North America's Might.
View the
complete list
of Newsletter & Website winners